Welcome 2023!
By Kirsten Ostlie, Executive Director
We welcome 2023. Here is our 2023 Annual Newsletter, 2022 Financial Report and a request for your membership renewal. Some ask 'what do you do there?' Well, alot is the short answer. Let me explain.
When you drive by the community center you see activity. Day and night there are classes in music, dance, pickle ball, yoga and taekwondo. Special events happen whenever there is something to celebrate, educate, recreate, or donate. The staff and Board of Directors strive to maintain and improve this building to serve the needs of this community.
2022 Annual Report
We invite you to look at our 2022 Annual Report. As the current caretakers of this community facility, we welcome your ideas and participation. Your input is vital to continue as a community center, open to all. Thank you!

Membership Drive
We begin our Membership Drive 2023. With your support we have kept the doors open and the floors clean for over 40 years. We appreciate your support. Become a Member!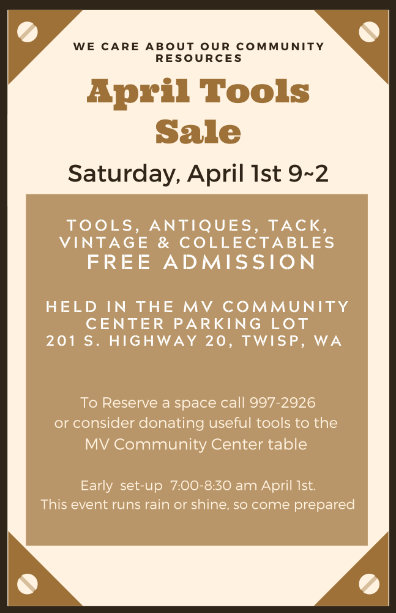 Mark your calendar for the 4th Annual April Tools Sale • Saturday, April 1st
Whether you have antique tools or jewels, art & crafts, or horse tack, furniture or building materials. It's all good. Call the office 9 AM – 5 PM Monday -Friday or email mvccenter@methownet.com to reserve a table or two.
It's an event brimming with treasures. See you there!