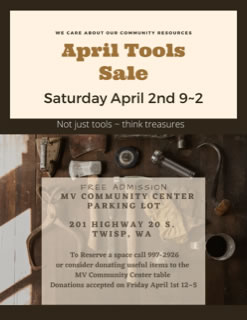 Stock up on quality tools, tack, and vintage items at our annual event! Outdoors this year, observing Covid-19 precautions and restrictions.
April 2nd from 9 a.m. – 2 p.m. • FREE!
Got stuff?  Rent a table or two and have a sale! $25-50 per space, depending on needs. Early set-up for vendors is a must on the day of the event, from 7 to 8:30 a.m.
Got stuff, but don't want a table? Donate it to the Community Center, and we will sell it and use the money for building maintenance and projects.
We care about community resources!