Manager – Kirsten Ostlie
Kirsten Ostlie has been MVCC Manager for over ten years. She's lived in Twisp for more than thirty years and loves to share her love of the Methow Valley with visitors.
Her dedication and commitment to the MVCC is a constant inspiration to other valley residents to help keep the Community Center the vibrant social and artistic hub of the valley.
---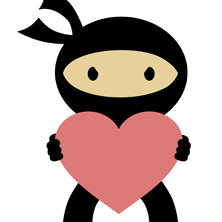 Maintenance –  Pam Vieth
Pam Vieth is a ninja whose maintenance superpowers should not be underestimated.
As a ninja, she has repeatedly thwarted any efforts to be seen in public, let alone photographed.
We're not even sure she exists, except that the building stays clean and broken stuff gets fixed, so she's out there…
---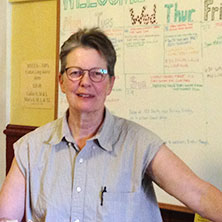 Visitor Center – Mary McFaul
You can find Mary's friendly face womanning the visitor center information desk during the summer season. Mary keeps busy during the winter by coordinating lessons at the Loup Loup Ski Bowl, and throughout the year by providing consultant services for musicians and other creative souls.
She's also rumored to know the whereabouts of ninja Pam Vieth, but she's not telling.
---
Furnace Tamer – Clarence McCorkle